Lake Superior Agate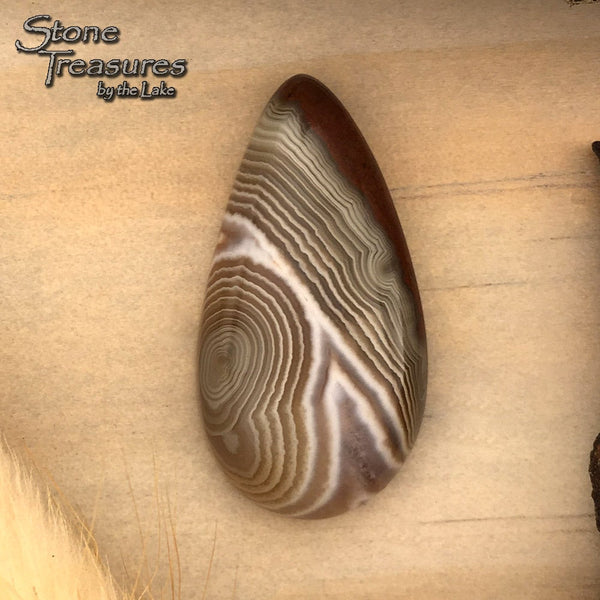 Lake Superior agate is a type of agate stained by iron and found on the shores of Lake Superior. Its wide distribution and iron-rich bands of color reflect the geologic history in Minnesota, Wisconsin, Nebraska, Iowa, Kansas and Michigan. In 1969 the Lake Superior agate was designated by the Minnesota Legislature as the official state gemstone.

The Lake Superior agate formed during lava eruptions that occurred about a billion years ago. The stone's predominant red color comes from iron, a major Michigan industrial mineral found extensively throughout the Iron Range region. Lake Superior agate can be found in many regions of Michigan as it was distributed by glacial movement 10,000 to 15,000 years ago.
Lake Superior agate is noted for its rich red, orange, and yellow coloring. This color scheme is caused by the oxidation of iron. Iron leached from rocks provided the pigment that gives the gemstone its beautiful array of color. The concentration of iron and the amount of oxidation determine the color within or between an agate's bands. There can also be white, grey, black and tan strips of color.

The gemstone comes in various sizes. The gas pockets in which the agates formed were primarily small, about 1 cm in diameter. A few Lake Superior agates have been found that are 22 cm in diameter with a mass exceeding 10 kilograms. Very large agates are extremely rare.

The most rare Lake Superior Agate is the highly treasured eye agate has perfectly round bands or "eyes" dotting the surface of the stone.  A common subtype of the fortification agate is the parallel-banded, onyx-fortification or water-level agate. Perfectly straight, parallel bands occur over all or part of these stones. The straight bands were produced by puddles of quartz-rich solutions that crystallized inside the gas pocket under very low fluid pressure. The parallel nature of the bands also indicates the agate's position inside the lava flow. The most common type of Lake Superior agate is the fortification agate with its eye-catching banding patterns. Each band, when traced around an exposed pattern or "face," connects with itself like the walls of a fort, hence the name fortification agate.
Lake Superior Agate Products
Regular price

Sale price

$90.00 USD

Unit price

per

Regular price

Sale price

$80.00 USD

Unit price

per

Regular price

Sale price

$50.00 USD

Unit price

per