Pyrite Agate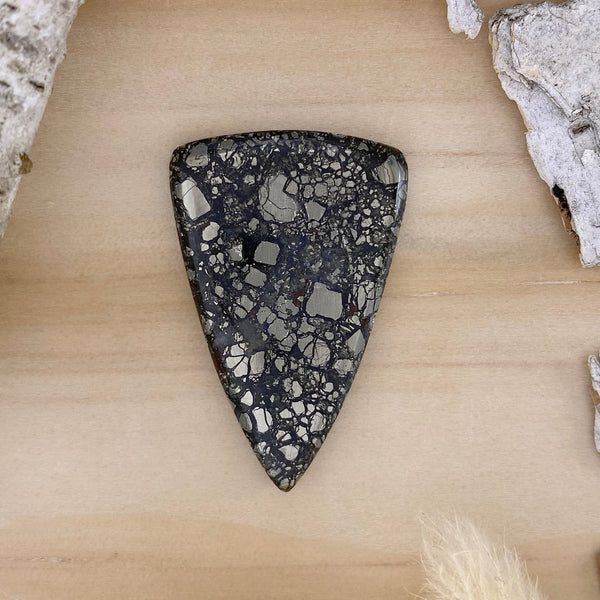 Pyrite agate is chalcedony (agate) with pyrite inclusions.  An inclusion is any material that is trapped inside a mineral during its formation. In gemology, an inclusion is a characteristic enclosed within a gemstone, or reaching its surface from the interior.  Inclusions are usually other minerals or rocks, but may also be water, gas or petroleum. Liquid or vapor inclusions are known as fluid inclusions. In the case of amber it is possible to find insects and plants as inclusions.
The mineral pyrite or iron pyrite, also known as fool's gold, is an iron sulfide with the chemical formula FeS2 (iron (II) disulfide). Pyrite is the most abundant sulfide mineral.
Pyrite is usually found associated with other sulfides or oxides in quartz veins, sedimentary rock, and metamorphic rock, as well as in coal beds and as a replacement mineral in fossils, but has also been identified in the sclerites of scaly-foot gastropods. Despite being nicknamed fool's gold, pyrite is sometimes found in association with small quantities of gold. A substantial proportion of the gold is "invisible gold" incorporated into the pyrite. 
Pyrite is a powerful protection stone which shields and protects against all forms of negative energy. It stimulates the intellect and enhances memory, helping to recall relevant information when needed. Pyrite assists in seeing behind facades, promoting understanding of that which lies beneath words and actions. The ancient Incas used Pyrite for meditation and divination.

Pyrite inspires the universal energies to activate the nourishing energies of the body. It encourages the ideal of health, intellect, and emotional well-being. It allows one to recognize the purity of the universe.
Agates in general are said to be stabilizing, calming and strengthening. 
Pyrite Agate Products
Regular price

Sale price

£26.00 GBP

Unit price

per